Budapest is known for a lot of things, including some of the most photogenic sceneries in Europe. The city has a lot of architectural masterpieces and a classical vibe that no other cities have. However, if there's one thing that you must try before leaving the city, that's the famous thermal baths.
Budapest's thermal baths
There are a lot of thermal baths Budapest offer to its visitors. Water is supplied by some of Europe's best thermal springs and has minerals like calcium, magnesium, and bicarbonate, which is believed to have healing properties. If you want to experience the best thermal baths in the city, here are some of the hotspots that you can check out.
Where to stay in Budapest?

Thermal baths to visit in Budapest
1. Széchenyi Thermal Baths
The Széchenyi baths is one of the largest natural thermal baths in Budapest. Inside the complex, you can find 15  indoor pools, three huge outdoor pools, and saunas. Temperature ranges from 33 C to 38 C. Although the baths in this area are open year-round, the best time to come to this place is between 6 AM to 9 AM before the area gets too crowded.
2. Gellért Thermal Baths
Gellért Baths is considered as the second most popular thermal bathhouse in Budapest. It was first built from 1918 and still operates today. Although it only has 8 indoor pools and 2 outdoor pools, the architecture and art design of the place is Instagram-worthy. There are small private baths which can be reserved by couples. During the summer, visitors can use the outdoor pool equipped with a wave machine for a more enjoyable experience.
3. Veli Bej Baths
Veli Bej Baths is one of the oldest bathhouses in Budapest. It was formerly known as the Császár Bath and usually operates from 6 AM to 12NN, and 3 PM to 11 PM. This location is not as crowded and busy, unlike Gellért and Széchenyi, which is perfect for people who like a more private thermal bath experience.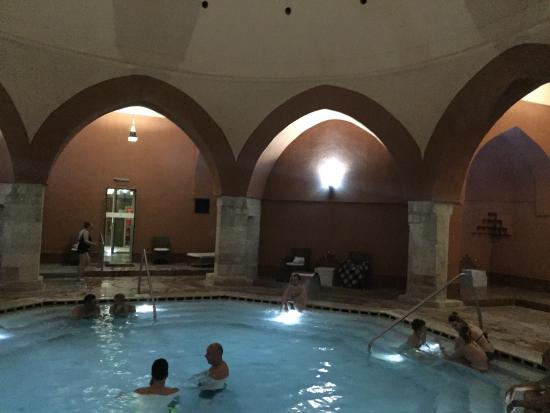 4. Lukács Thermal Baths
Found in Frankel Leo, Lukács is not quite old as Veli Bej, but it is still centuries old. Founded in the 1880s, Lukács Baths features a Himalayan salt wall, which is believed to give relief to people with respiratory illnesses. If you want to have more fun during Saturdays, this location host event called "Sparties" which is open until 3 AM.
5. Király Thermal Baths
Király Baths is also another old bathhouse, built during the 16th century. Like Gellért, Király also offers a private hot tub that can accommodate up to four people. Because the water source is within the city walls, patrons and visitors can always expect a steaming bath for them whenever they want it.
6. Rudas Thermal Baths
If you're into mingling with locals, the Rudas Baths has a lot of locals enjoying the services in the location. Rudas has 11 indoor pools and one pool located outdoors. What's unique in Rudas is its rooftop tub that can offer one of the best views of the skyline in the city.