Király Baths are one of Budapest's most important Turkish monuments. Arszlán Pasha began its construction in the middle of the 16th century. The dome covered pool has been functioning continuously as a baths.
In the 18th century it came into the possession of the König family – hence its current name
(König = Király = King). It was at this time that the Classicist style wing, containing the present main entrance, was added.
Király Baths' water supply stems from the springs supplying the Lukács Baths.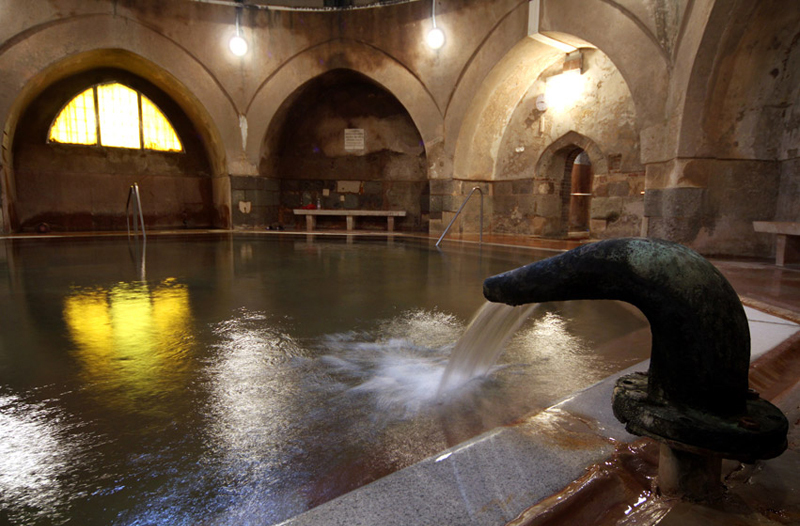 Open: 6:30am-7pm (Men only Mon, Wed, Fri; Women, Tue, Thu, Sat)
Water temperatures:  26, 32, 36, 40ºC (79, 90, 99, 104 °F)
Pools: 4 pools
Water surface area: 8, 10, 68, 4 m2
Water mineral content: thermal water containing nitrates, calcium-magnesium-hydrogen-carbonates and sulphate-chlorides, as well as fluoride ions in significant quantities
Therapeutic proposals: degenerative illnesses of the joints, chronic and semi-acute arthritis,  deformations of the vertebral spine, dislocation of the inter-vertebral discs, healing of neuralgia, calcium deficiency of the bone system, cases of post-injury treatment
Name: The Király Baths (Király Gyógyfürdő)
Country: Hungary
City: Budapest
Location: Buda, II. district
Transport: M2 Batthyány tér
Address: Budapest, Fö utca 84
Phone: 1/ 202-3688