Ruin bars are popping out like mushrooms after rain almost in every European city, not just in Budapest. They are all the rage among young Europeans that see ruin bars as their ultimate playground for socializing and nightlife.
Even though there are ruin pubs all over Europe, and other cities across the world, Budapest remains the capital of ruin bars. That's where it all started, and the flame is still strong.
The following list contains 20 of the best ruin bars in Budapest at present. But before we dive into our list, we need to explain how it all started and why.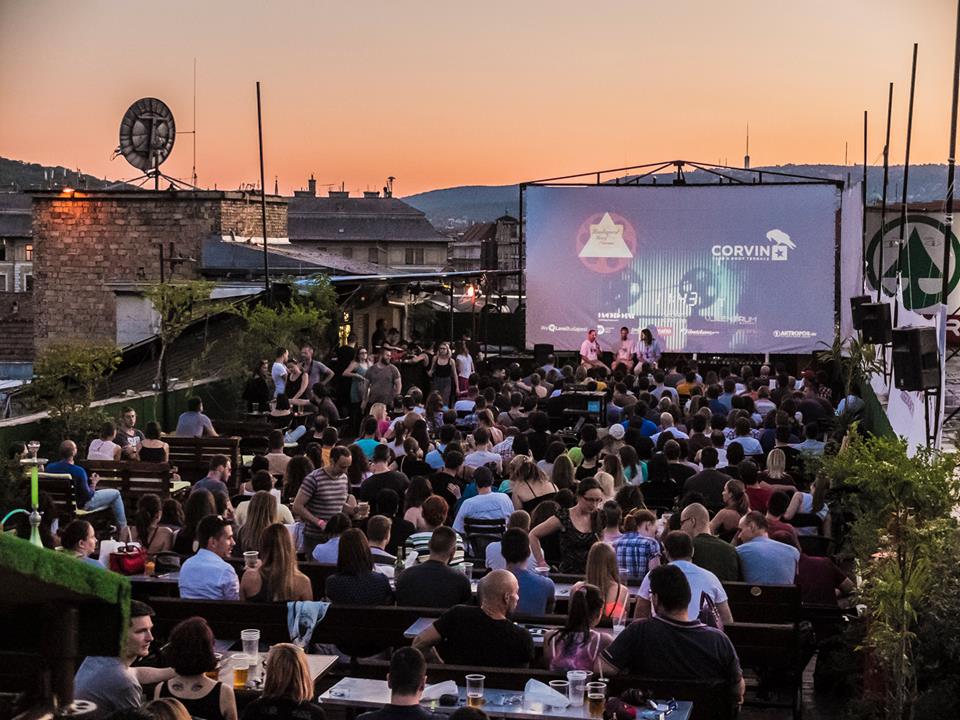 The History of Ruin Bars in Budapest
It all started in 2001 when a bunch of guys decided to do something with all the free space in the inner VII District. The area is also known as the Jewish Quarter which was abandoned since World War 2.  At that time, tens of thousands of Jews were deported from there. For more than 50 years, the neighborhood was made of unliveable, abandoned buildings that were destined to crumble.
But things were destined to change. However, the first two years show no signs of the upcoming change. The change didn't happen until 2004 when a guy named Ábel Zsendovits and his friends took over and opened what is today known as the Szimpla Kert.
Those guys brought life to an old building on Kazinczy Street. They filled the space with mismatched furniture and created a community space for the young and creative people of Budapest. As it turned out, the place was exactly what an entire generation of young people needed and wanted. It was an instant hit that ignited the opening of other similar bars across the neighborhood.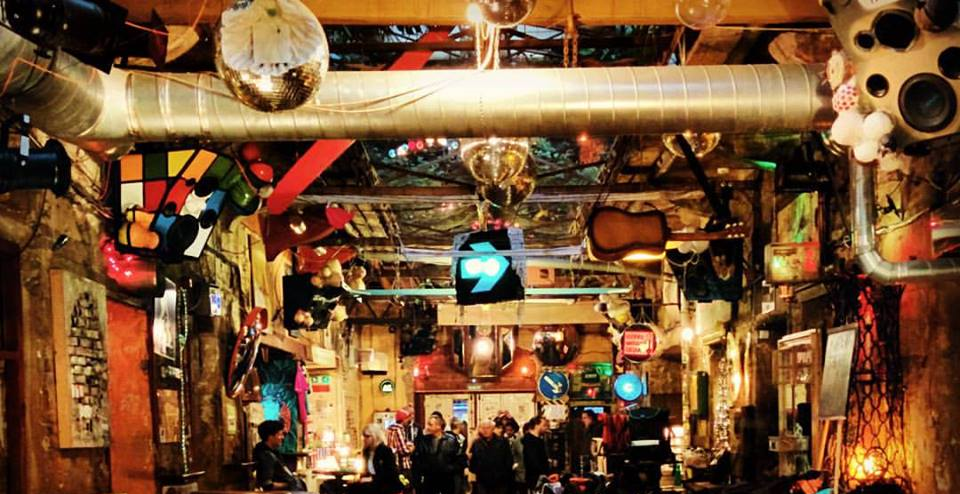 The Evolution of Ruin Bars in Budapest
Szimpla was the template on which most ruin bars were based. Even today, the formula remains relevant and is quite simple; find an old building, ask friends to join you, clean the space, add some vintage and mismatched furniture, add some lighting to the place, exhibit some art from local artists, bring drinks to sell, and spread the word. Of course, you are not limited to that, but that's some basic template should help you get started.
At least that was in the first years of the ruin bar craze. Nowadays, their scope has vastly expanded.
Nowadays, ruin pubs are the driving force for alternative culture, as well as somewhat of a mainstream attraction of tourists coming to visit Budapest. Today, Budapest's ruin bars are as popular as the Hungarian Parliament Building and Buda Castle. As a result, many of the most popular ruin bars are always full of both locals and tourists. There are even tourists that come to Budapest to see the ruin pubs. That's how big they have become.
In addition to the massive flow of tourists, many ruin bars are also used for organizing various events. Many of the events are cultural, featuring independent film projections, art exhibitions, performances, and so on. Plus, many ruin bars offer snacks and prepare food for their visitors. That's part of a new wave of ruin bars that look for all sorts of ways to monetize their continuous popularity.
At the same time, just because they are more in the eye of the mainstream, that doesn't mean they've lost their gritty look and unique vibe. Local artists and open-minded people still hang out there, drinks are still cheaper than downtown, and the relaxed, artistic vibe persists.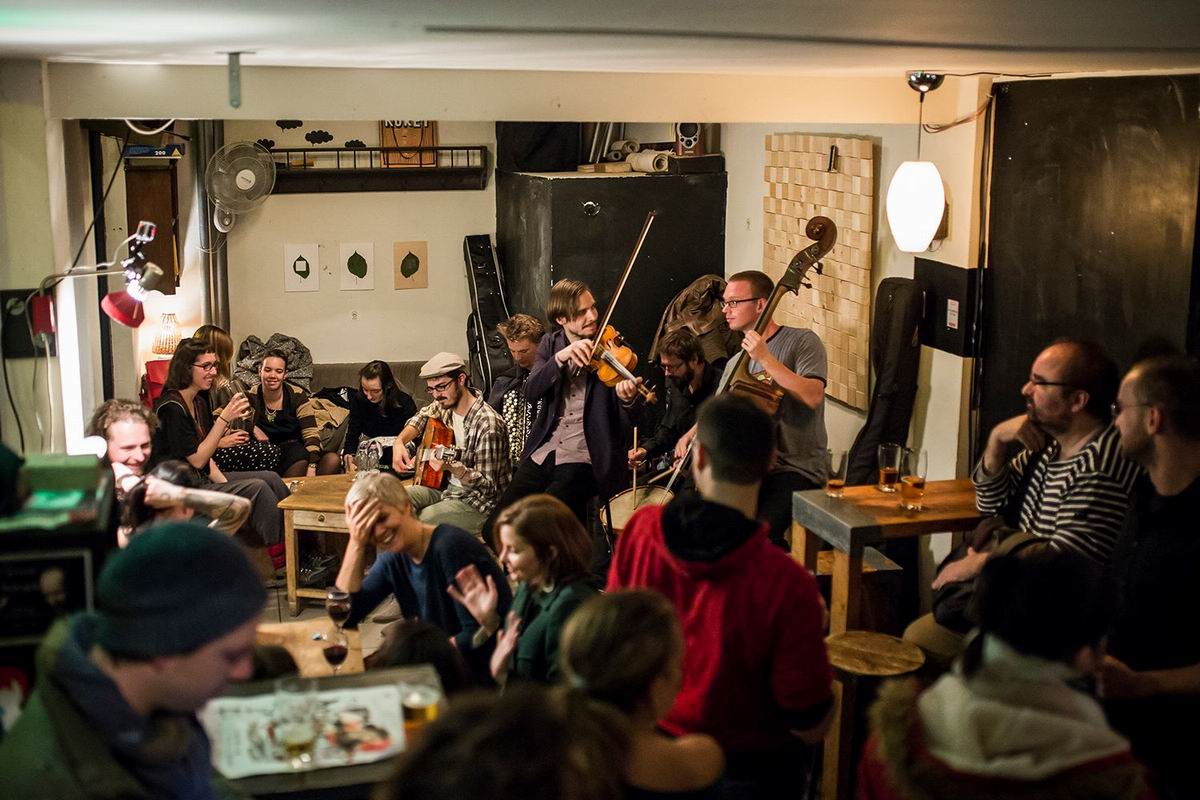 Now as we are done with elaborating the essence, the past and the present condition of ruin bars in Budapest, it's time to dive into the top 20 ruin bars in Budapest.
Where to stay in Budapest
Top 20 Ruin Bars in Budapest
#20 Instant-Fogas
Instant-Fogas is one of the biggest ruin pubs in Budapest. Instant was initially opened in 2008. Fogaskert was a separate bar that opened in 2009. In 2017 they merged and became one huge ruin pub. Nowadays, the bar is very popular, with both tourists and locals alike, and it is the host ground for numerous concerts and events. Late night parties in Instant Fogas are almost famous across the city as one of the best.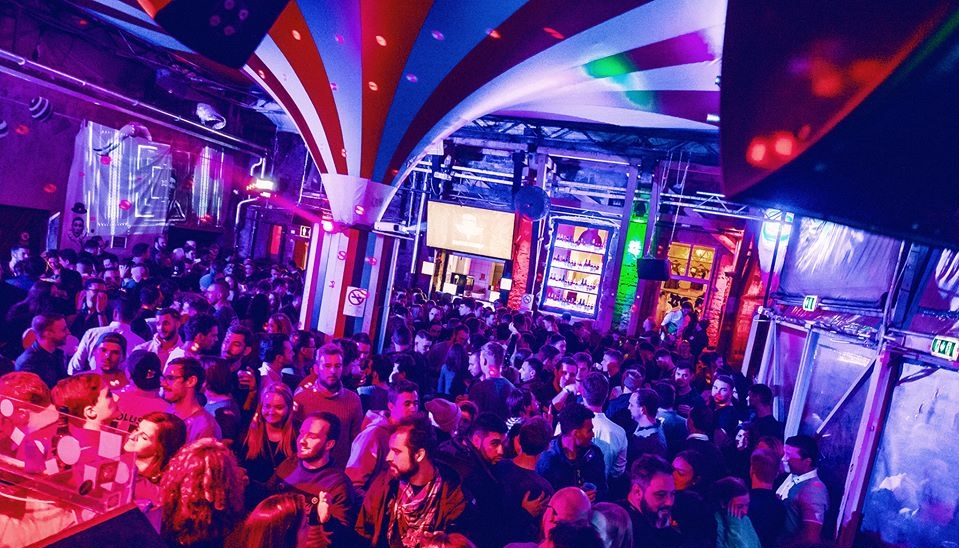 #19 Kőleves Kert
Kőleves is located in the center of the Jewish District on Kazinczy Street. The bar was opened almost a decade ago, and it is a very popular spot for students until the present day. Grabbing a cold beer on a summer afternoon can be a true delight. Its spacious patio is genuinely unique, and the heart of this ruin bar. In addition to the drinks, they serve food prepared from bioproducts.
#18 Grandio Jungle Bar
The Grandio Jungle Bar is at the doorstep of Budapest's most famous hostel – the Grandio Party Hostel. Thanks to that, there is always someone hanging around. Its dense vegetation and contemporary pieces of art make its vast patio one of the most original ones in the city. Many of the locals gather there before heading out clubbing or to see some newly placed art installation.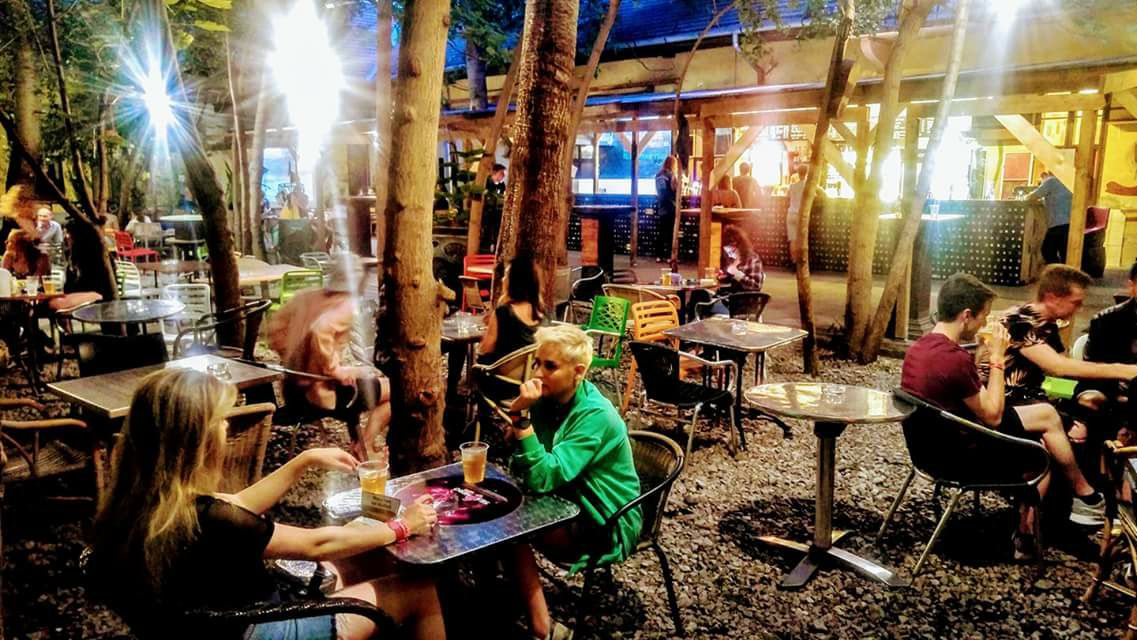 #17 Ellátó Kert
This is one of the newest ruin pubs in Budapest and one whose popularity is growing exponentially. Its original furniture and relaxing vibe play an essential role in its popularity. But also many people like to visit it because of the Mexican food that is prepared and served there. If you are into Mexican food and would love a tasty taco, head towards Ellátó Kert.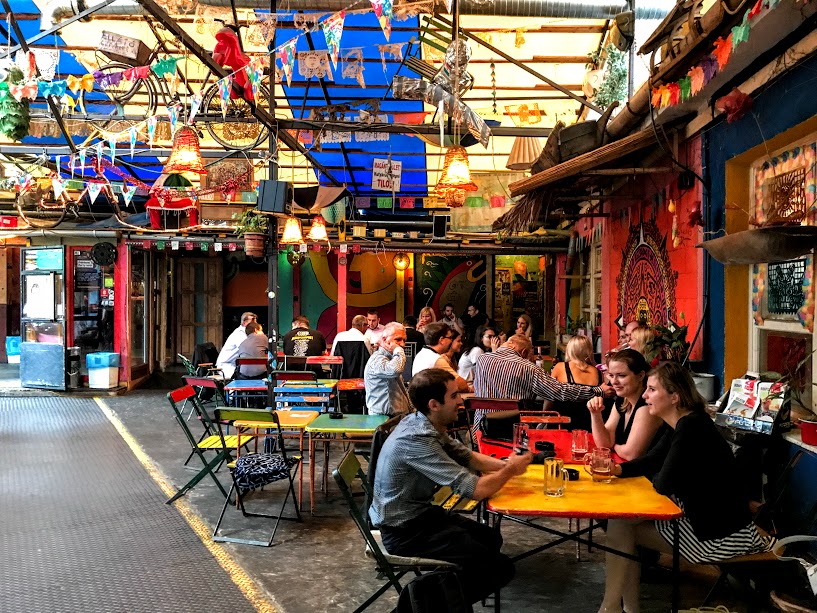 #16 Élesztőház
Beer lovers love this ruin pub as it serves over 20 types of craft beer every day. It is a cozy pub where beer tasting is done in a relaxing atmosphere. At the same time, there are frequent cultural events held there. But nothing too nosy or anything like that.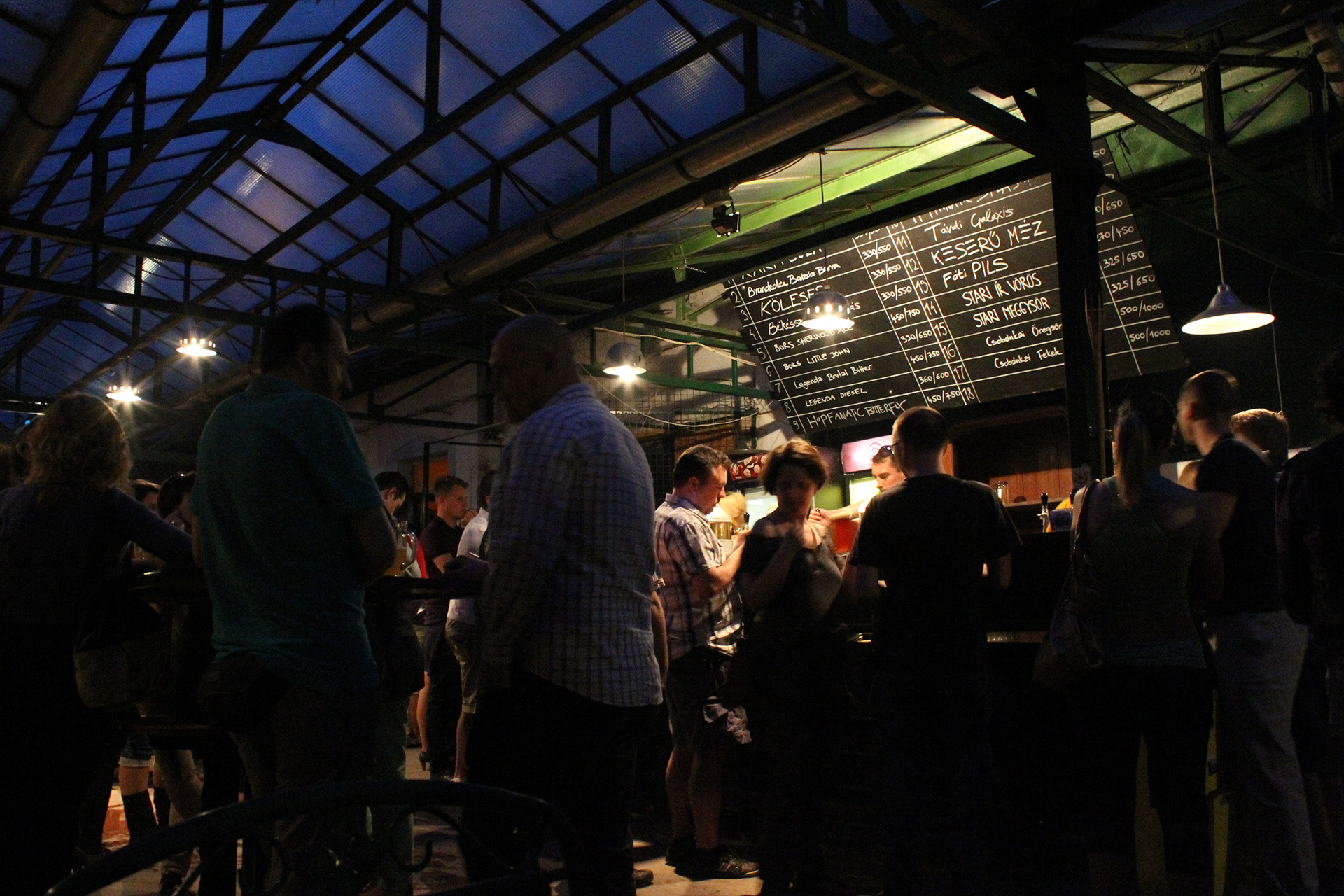 #15 Dürer Kert
Dürer Kert is not in the proximity of most other ruin pubs located in the District 7 area. However, that doesn't make it less interesting. The pub is located just across the city park in one of the most interesting old buildings in the area. The building was originally a nun school. With the rise of communism, it was converted into a party headquarter. In 2007, the building was claimed by Budapest's main university after which it was converted into a ruin pub.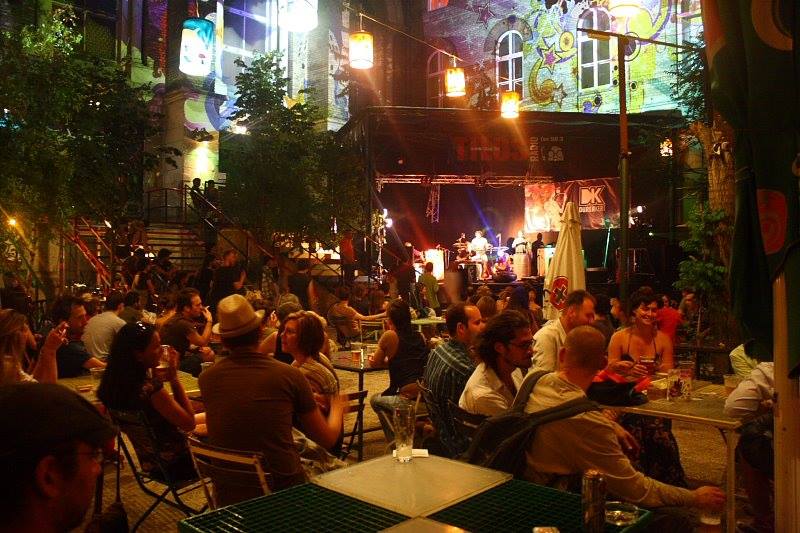 #14 Mazel Tov
Mazel Tov honors the Jewish District, and it offers traditional Jewish dishes. It is a relatively new ruin pub that is also used as a community center. Most nights, local DJs are playing their music, and it is a favorite spot for many locals.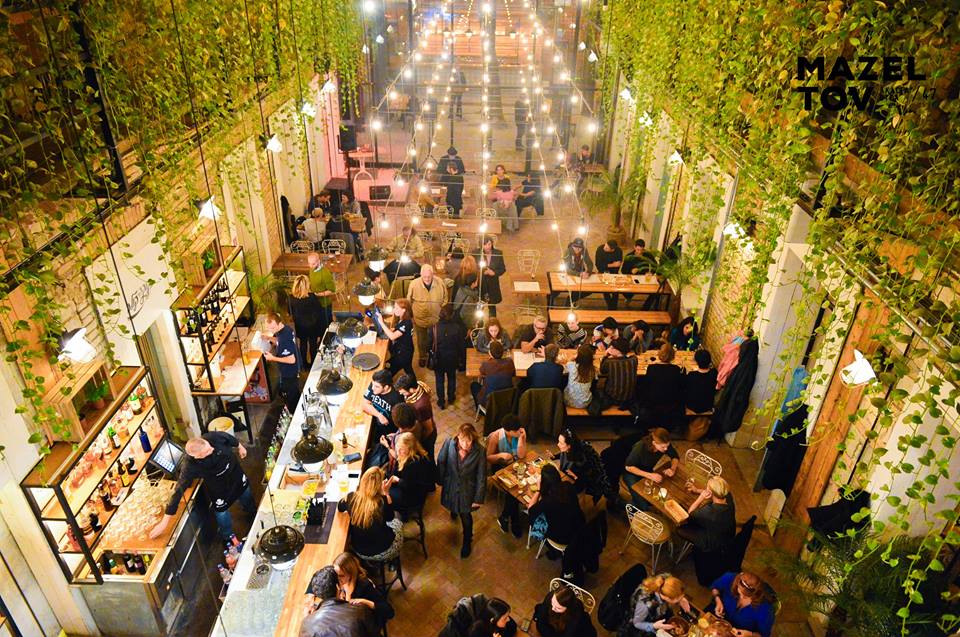 #13 Anker't
It is a massive pub with interconnected yards and one gigantic dancefloor. Anker't is located in an old factory turned a ruin pub. The place is mainly decorated with plenty of funky art pieces that are any way you turn. Thanks to its gigantic dancefloor and the frequent night parties, Anker't has its unique, vibrant vibe.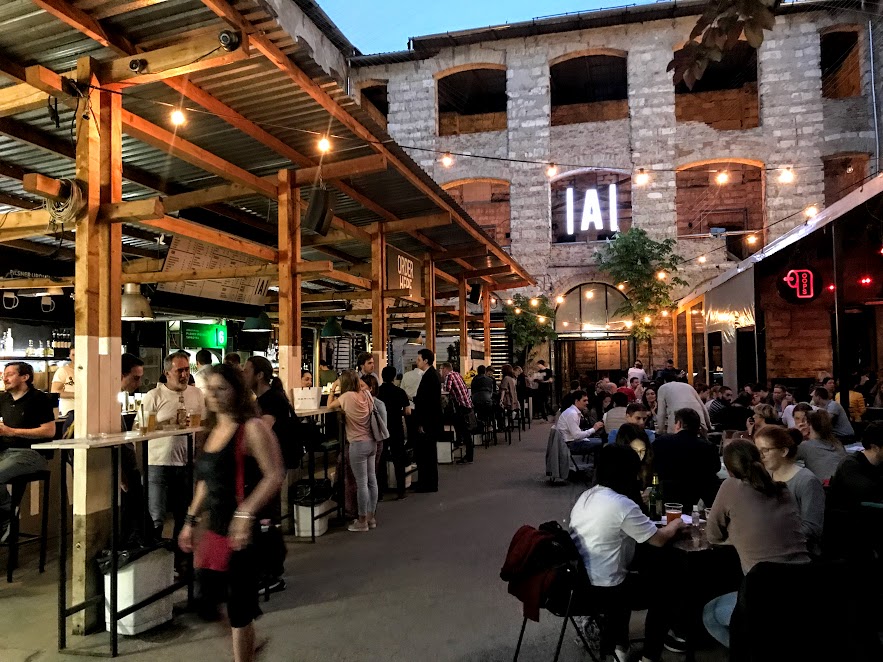 #12 Csendes Vintage
Csendes Vintage doubles as both a cafe shop and a bar. Its surrealistic interior design is its main trademark. They have managed that through reutilizing old furniture. During the morning and throughout the afternoon it functions as a cafe shop, while at night it is a lively bar where you can find and meet people of all classes.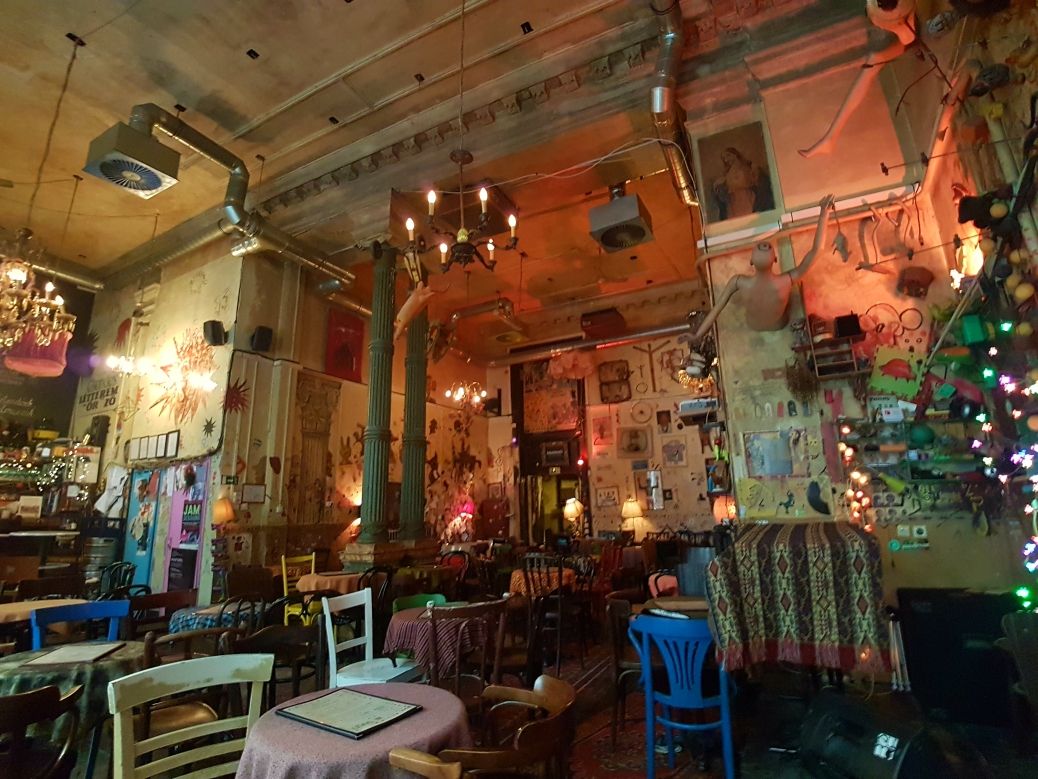 #11 Doboz
There is a huge tree in the middle of the yard that is surrounded by tables, chairs, and sitting benches. Once you step in, you feel like you are in someone's courtyard that belongs to everyone and no one at the same time. All in all, it feels like being on the set of a Big Lebowski film, just without Jeff Bridges sipping drinks.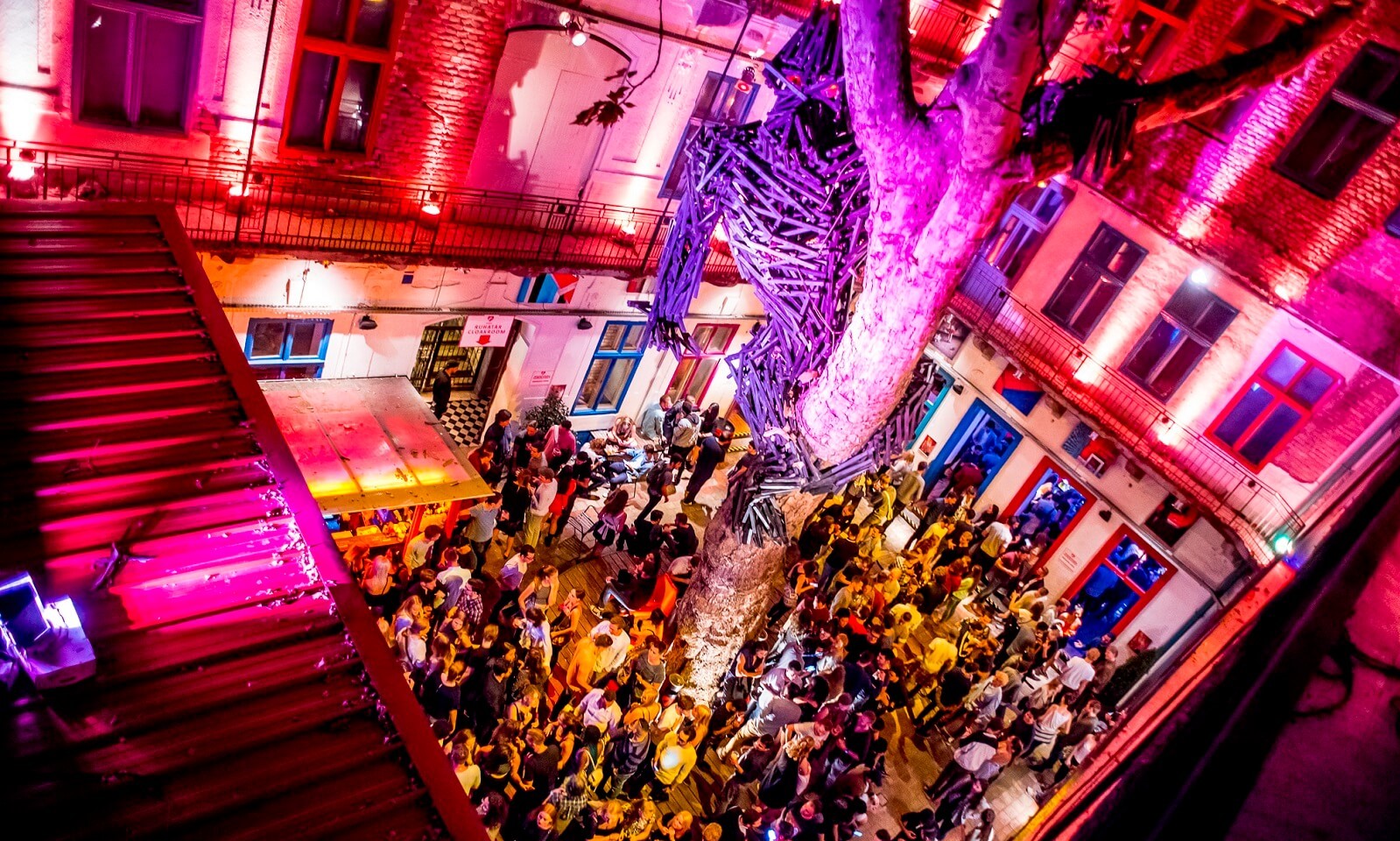 #10 Szatyor Bar
Szatyor Bar is not like most other ruin pubs in Budapest as it features a combination of eclectic furniture tempered in various colors. Most of its regulars are over 25. Therefore, don't expect to find too many hoodies and backpacks in Szatyor. The bar is located on Bartók Béla Boulevard in the 11th District.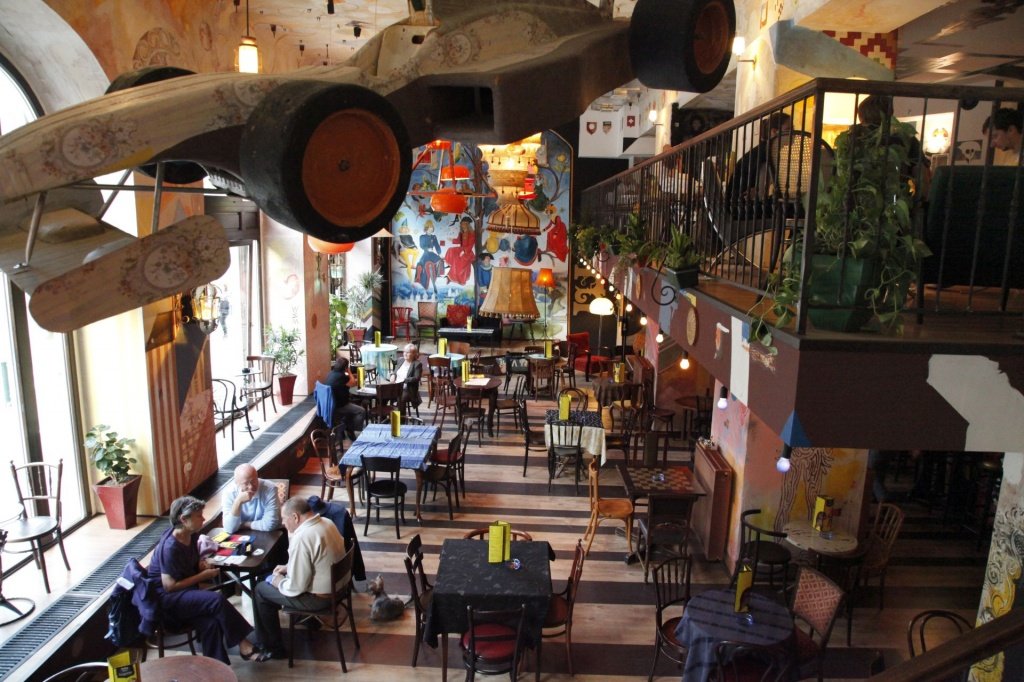 #9 Füge Udvar
Füge Udvar is considered the most relaxed ruin pubs on Klauzál Street. Locals love it and regularly fill the outdoor and the roofed parts. It is the perfect place for a chill night playing pub games like pool and ping pong. Plus almost all the drinks are quite cheap.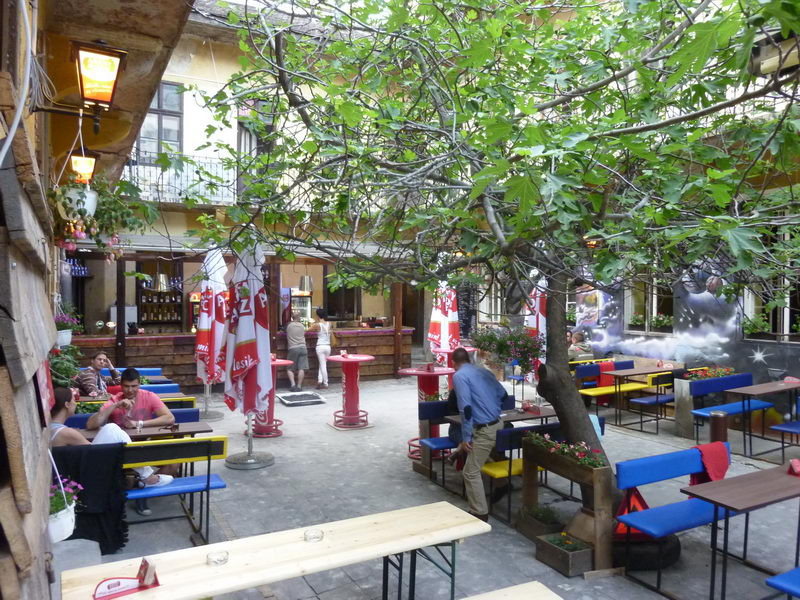 #8 Fröcssterasz
Fröcssterasz has been opened for three years now, and it is known for its exquisite terrace. The pub is so popular that you need to arrive quite early to grab a table as reservations are not possible. Drinks are reasonably priced, and you won't find any flashy furniture or some modern artworks. It is a rather simple place featuring a minimalistic design.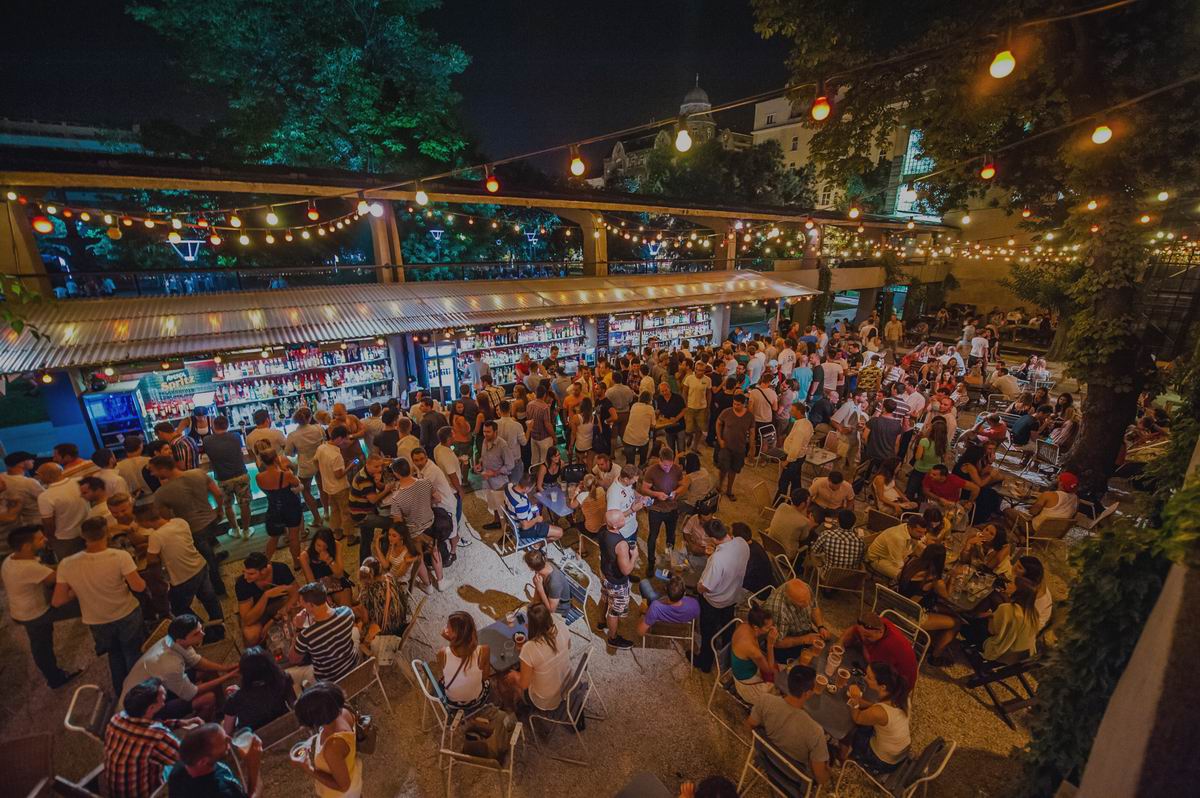 #7 Mika Tivadar Garden
The Mika Tivadar Garden pub is located in the middle of Kazinczy Street in an old copper factory. The pub is a mix of vintage classics and modern design featuring art pieces spread all over the place. All art pieces belong to local artists that are often seen hanging in there. Prices are moderate, and their staff is super-friendly.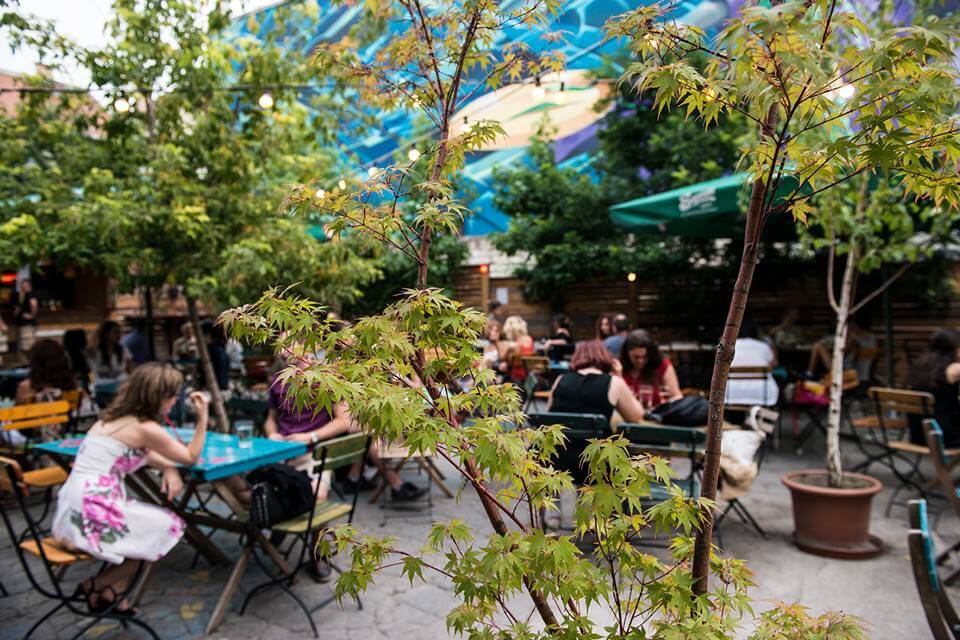 #6 Trapéz
Trapéz is located just across the Central Market on Imre street. This ruin pub is spread on two floors, offers Hungarian dishes, and is pet-friendly. It also has its garden where you can chill and an escape room located in its basement. Some of the rooms have widescreen TVs which are perfect for watching sports matches. There is a parking space for bikes, and the Wi-Fi is always running.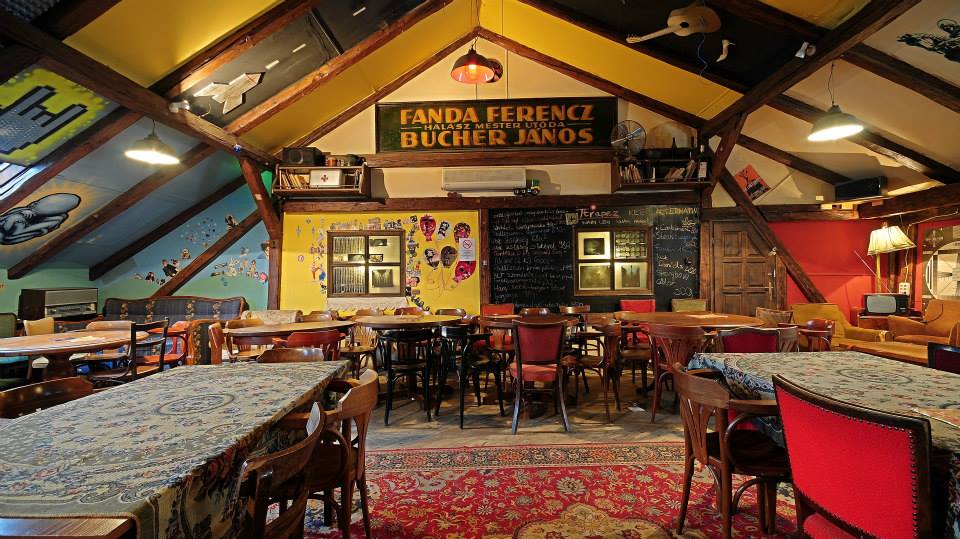 #5 Rácskert
If you are on a pub crawl mission than Rácskert is a must-visit. Every Friday there is a local band playing, and many locals like to party there. It is a cool, little, and excellent bar where you can experience what it feels to be a local. The food is good, and the staff is very friendly.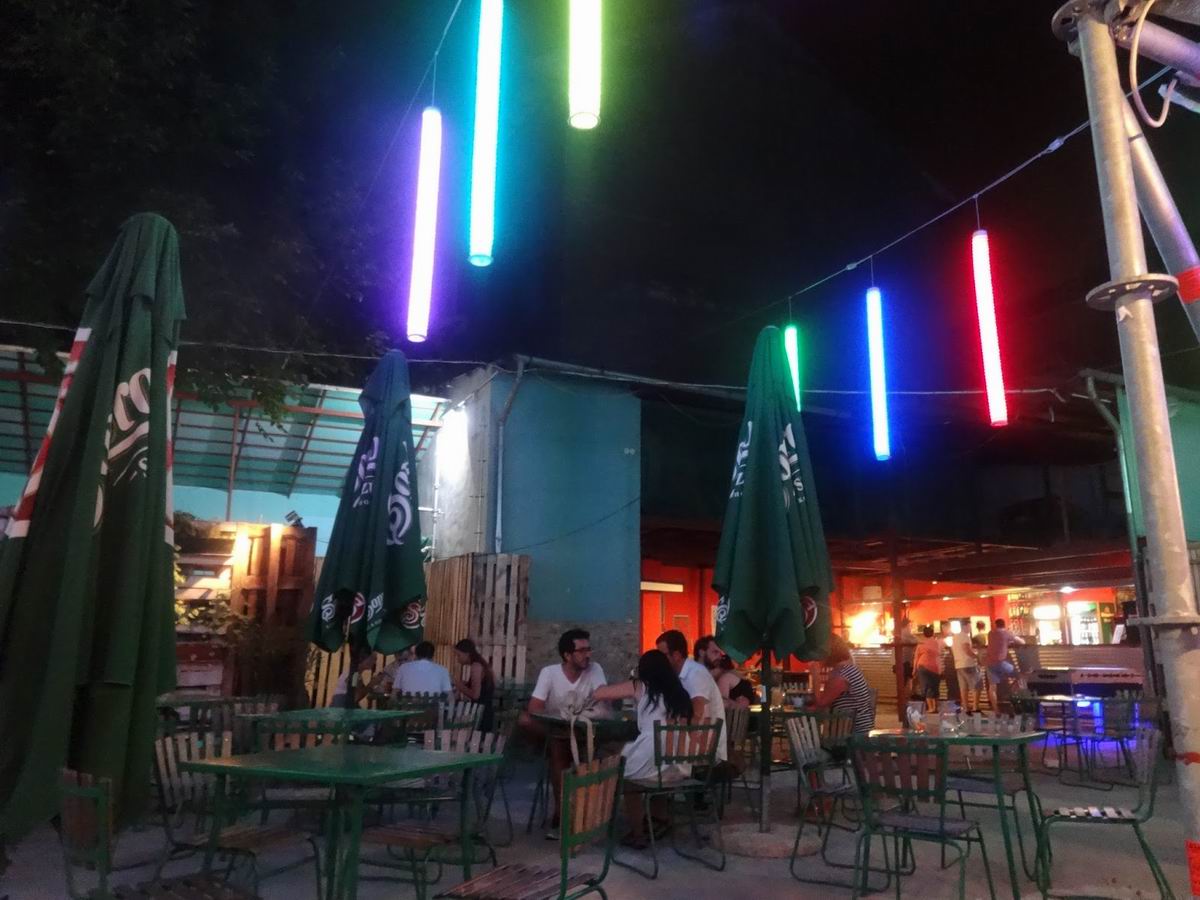 #4 Ellátóház
Ellátóház is famous for its many concerts and parties throughout the year. Drinks are cheap, there aren't too many decorations, and everyone there is in a party mood. It is one of those places that can lift your mood just by being there. Many think that it is the best ruin pubs for concerts and live music in Budapest.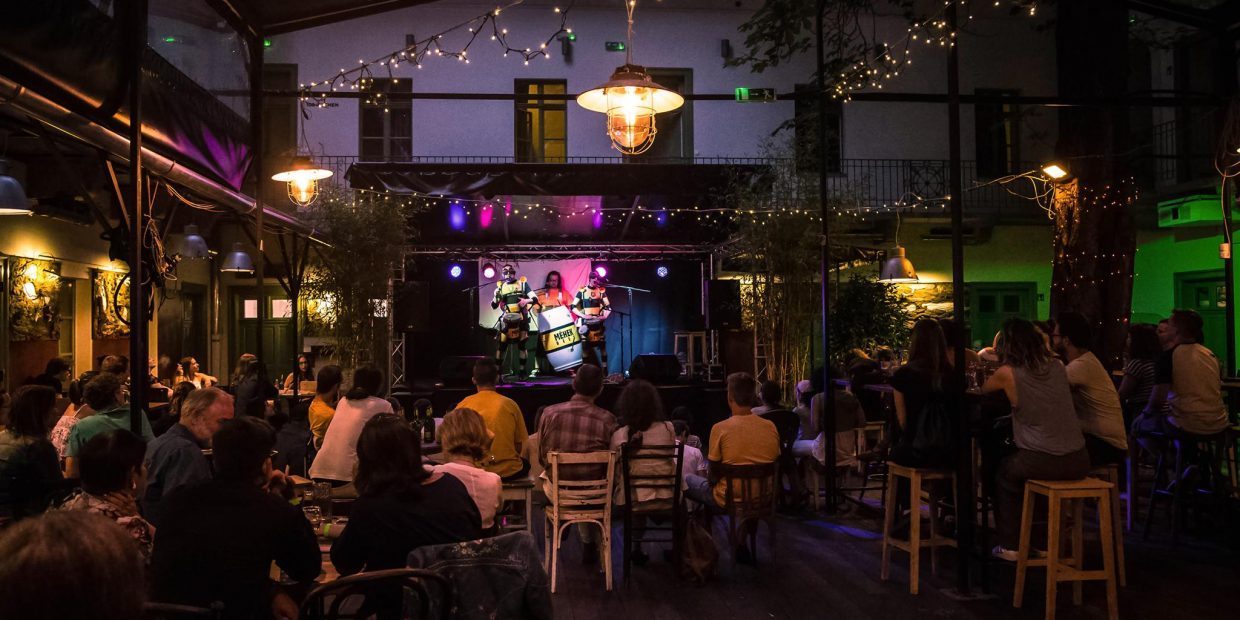 #3 Kertem
Kertem is located just across the old Olof Palme House. This widely open space is decorated with wooden tables, colorful chairs, and charming little lamp festoons. Their food truck prepares some of the finest burgers in the city. The place is very lively and regularly packed with people. The fact that it doesn't have any fences makes you feel like you are part of something bigger. The "help yourself" ice cream stand is a nice little touch that only adds up to its overall appeal.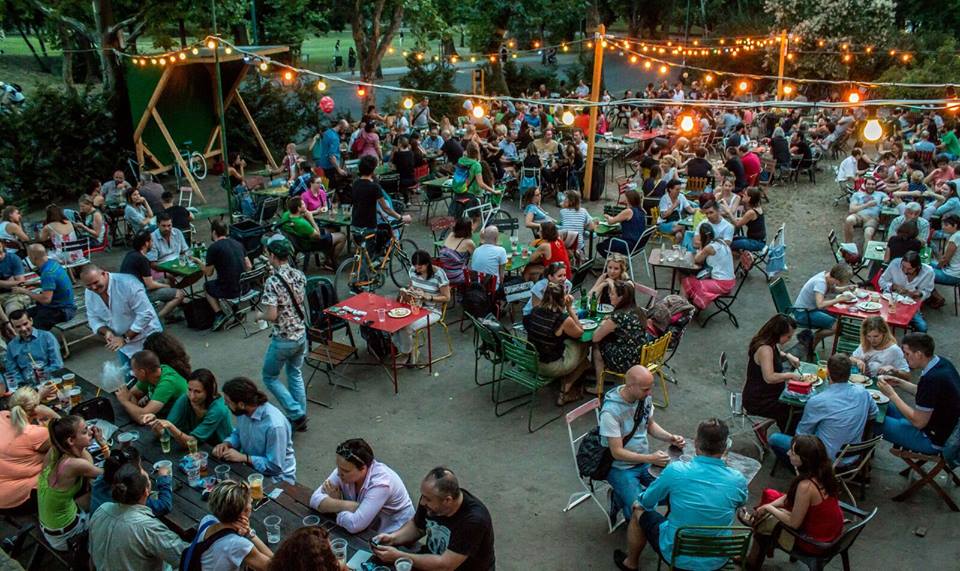 #2 Béla
Béla is one of those small pubs that get under your skin. The furniture is mainly wooden and is primarily vintage. Almost every table is decorated with some plant that perfectly matches the interior. It is a zen type of place where you won't hear loud music or anything like that. Being there is like meditating, it is that calming and relaxing.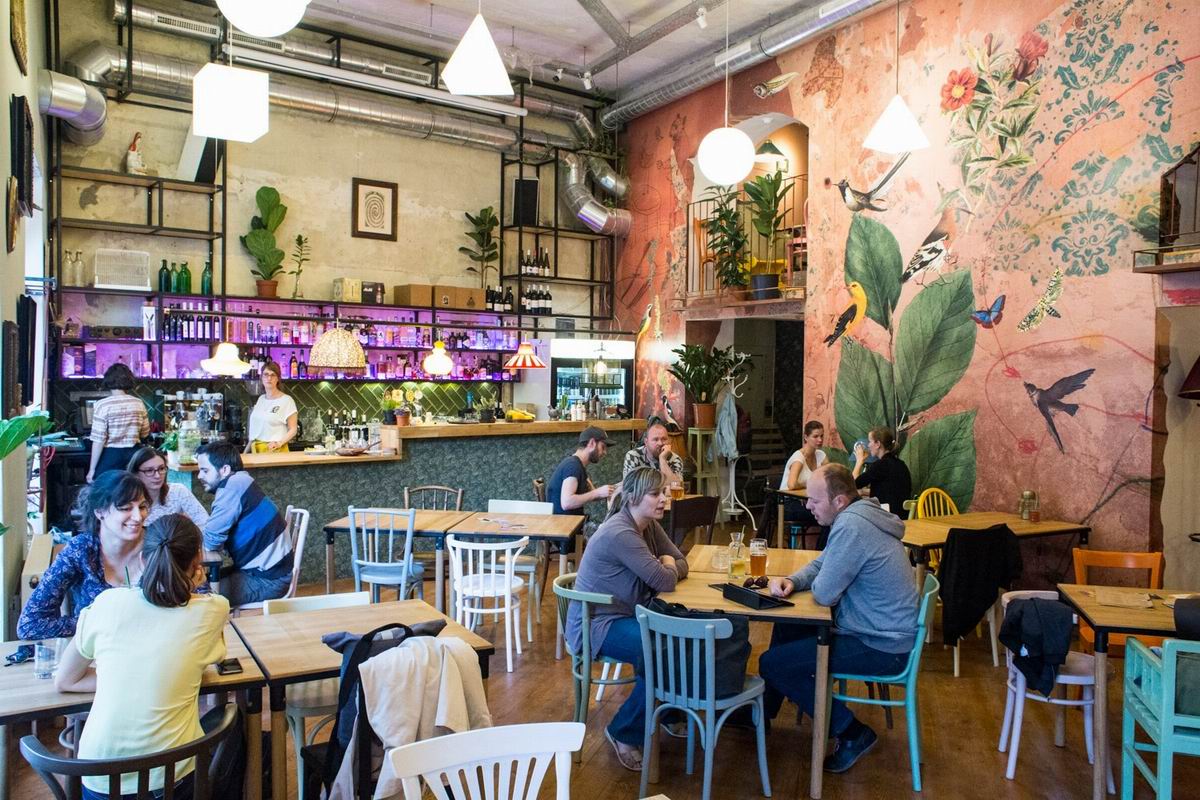 #1 Szimpla Kert
The best way to close the list is with the most iconic ruin pub in Budapest – Szimpla Kert. This all rage started with Szimpla Kert who managed to preserve its appeal and charm until the present day.
The pub is placed in a former factory and features several rooms, each themed differently. Plus, they offer pretty good pizza which makes for an excellent snack after a night of partying.
Pub crawling in Budapest
While pub crawling in Budapest, you can enjoy all that the Budapest nightlife has to offer in the best bars and clubs together with tourists from around the globe. You can get to meet and know people over drinks while you all crawl from one bar to the next. Enjoy a pub crawl in Budapest and give amazing testimonies.
In Conclusion
By now you are pretty good educated on the topic of ruin pubs in Budapest. Now you know which ones are the best, which ones are quieter, and which ones are for partying hard. You also know that each of them has its personality, the thing that makes each one of them unique. But, in the end, it all comes down to your personal preferences and taste. Make a list of the ones that match your ideas for fun and start your ruin pub crawl. Fun is guaranteed!